Eeyore's Birthday Party
Saturday, April 29, 2023
11:00 AM – 8:00 PM
The 58th annual Eeyore's Birthday Party will be held in Pease District Park.  Our rain date is the following Saturday, May 6th, 2023. More info.
Free Admission
Free Parking/Shuttle Buses; Ride a Bike; Walk; Take Capital Metro buses
Kids: 11 AM – 3 PM – Games, Crafts, Eeyore (Donkey)
Game Stage Schedule

12:30pm Kids Costume Contest
2:30 Grownups/Big Kids Costume Contest
4:30pm Sack Race
6:00pm Egg Toss

Maypole: Hourly 12-4pm
T-Shirts: Limited Edition for 2023 (58th)
Face Painting, Tattoos, Henna, Pasties
Food/Beverages
Music Stage Schedule

12-1:30pm           Mr. AJCarter
1:30-3pm             Miss Guilty
3-4:30pm             The Lewd Dudes
4:30-6pm             Dog Beach Rebels

All Proceeds benefit local 501(c)(3) organizations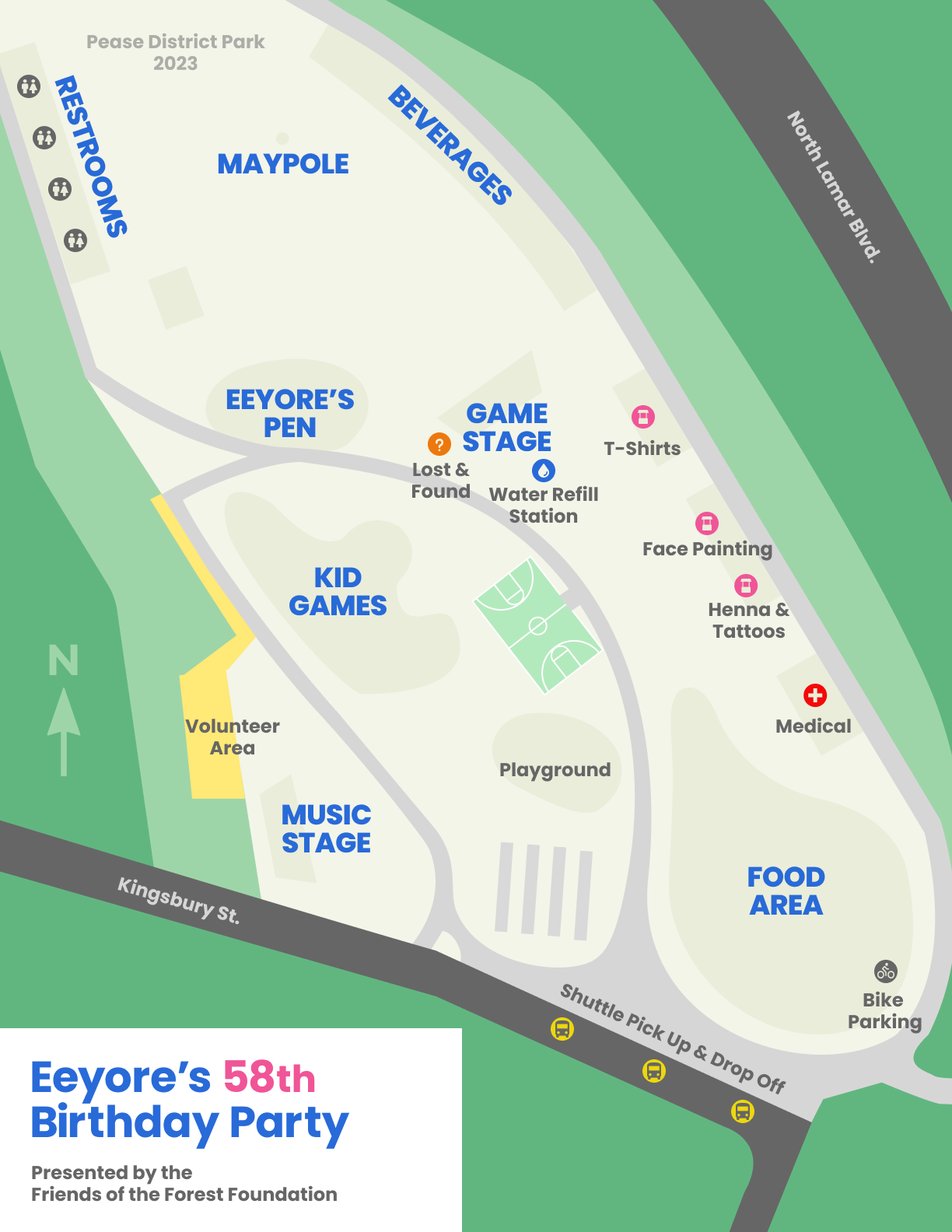 Join us for a day of fun in your park while raising funds for local non-profits. All proceeds generated during the party are donated to non-profits in central Texas. We hope to celebrate this Austin original experience with you. Beyond your attendance, we are in need of shiny happy people to assist with the production of this grand event. If you are interested in participating, please visit our Volunteer page and sign up for the mailing list. This event is of, by, and for the people.
Friends of the Forest Foundation
Covid Event Policy
Austin-Travis County's COVID Community Level: LOW (more info)
We advise attendees "at risk" and those testings positive or symptomatic for COVID should NOT attend.
Maintain social distancing.
COVID 19 bivalent/booster vaccine shots available free to the public.
APH Hygiene info. Wash your hands. Cover your cough.